The Five Behaviors™ is the result of the partnership between Wiley Workplace Learning Solutions and best-selling author Patrick Lencioni. The mission was to create a program that improves team effectiveness and productivity through the understanding and application of The Five Behaviors: Trust, Conflict, Commitment, Accountability, and Results.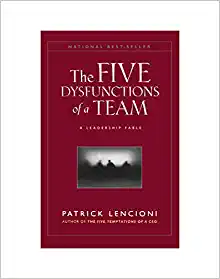 TRUTH TELLING, HONESTY,
AND CANDOR
ARE SOME OF MY CORE PRINCIPLES.

Name the challenge you're facing in your culture, and I will help you solve it.
From executive coaching, culture-shifting workshops, or long-term partnerships, my work is to help you develop your next leaders.
I was fortunate to learn this early from an exceptional leader. She took an eager, overconfident new hire and developed me into a capable leader.
I went on to lead marketing & training for 80+ sites across the U.S. Later, I went out and got almost every credential in leadership development you've heard of. (see the list)
Since that time, I've joined organizations in almost every industry to build VIBRANT CULTURES where employees take initiative and true ownership in their work.
Let's build your leadership development strategy together.